CamdenBoss builds on its strong electronic enclosure foundations with its latest exciting NPI. The introduction of the new 1500 series universal smart enclosure contributes towards their growing versatile IoT and sensor enclosure section.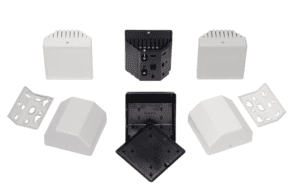 Consideration of current market demands and previous customer requirements have provided CamdenBoss with the tools and insight to develop an enclosure that is packed full of features and benefits, whilst retaining practicality and usability.
Named as the 1500 series universal smart enclosure, its most physical feature is the trapezoid shaped base that enables it to be mounted into corners or at 45 degree to a surface using the fine-tuned mounting bracket. Designed with customer needs in mind, the bracket and enclosure can be mounted to walls that are asymmetric, therefore solving a very real issue that installers face on a daily basis.
Suited to indoor use, the 1500 series has been designed to accommodate development boards (including the Raspberry Pi4) and provide an adaptable housing suitable for applications such as door entry, smart controls, sensors, security or networking to name a few.
size and three colours; black, white and grey, the 1500 series versatile enclosure comes with two further options, either a solid or vented version and is moulded in a UL94-V0 material.
To find out more about the 1500 series, visit the CamdenBoss website https://www.camdenboss.com/1500-series/ or call the sales team on 01638 716101 to discuss your project.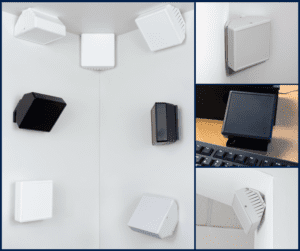 Customisation – Create more than just a box…
Make your enclosures stand out by utilising CamdenBoss' professional customisation service. We'll deliver your enclosure machined and digitally printed, ready to assemble STRAIGHT OUT OF THE BOX!
CamdenBoss offer a full customisation service for all their standard injection moulded, die-cast and sheet-metal enclosures. You can choose to customise your enclosure by machining cut-outs at CamdenBoss' in-house CNC machining centre. You can also choose custom colours, surface coating and RFI shielding, as well as engraving and digital/screen printing.
About CamdenBoss
CamdenBoss continues to push the boundaries on providing customer driven solutions, utilising 50 years of manufacturing experience.
As the biggest innovator of high-quality plastic enclosures and electro-mechanical components in the UK, CamdenBoss has built an unbeatable reputation for providing a broad and comprehensive range of products, guaranteed to satisfy any requirement.
CamdenBoss consistently drive quality and innovation to enable the customer to stand out from the crowd. They remain the only company to provide multiple industrial products including terminal blocks, waterproof connectors, fuses and fuse holders, along with customised plastic and metal enclosures. Giving the customer engineered solutions and modern products all designed around today's market
Call our sales team today on 01638 716101