Special screwdriver, which is neither slotted, nor Phillips type, but it combines the best of them both. And we is SOS electronic believe that's really a big PLUS.
You've certainly already got in touch with screws whose head enables to use slotted and also Phillips cross type screwdriver. It's quite handy as you'll probably never be in a situation when you won't have a usable screwdriver for a given screw by your hands. 
But do you know that there is a special and the most suitable screwdriver for such screws, so called SL/PZ (or SL/PH) , also called as "PlusMinus"? It is a screwdriver with this type of blade: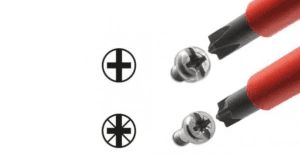 SOS electronic´s praxis proves that such "hybrid" screwdriver has the highest resistance against slip off, already at a minimal pressure on a screw. That´s especially beneficial for a work on devices on DIN rail, as we don´t have to push on the screw (and thus a DIN rail, plastic older or a plastic enclosure) using uselessly excessive force.  
Directly in our offer you can find 6 types of screwdrivers with the "PlusMinus" blade from Wiha:
SoftFinish electric SlimFix SL/PZ1 – insulated screwdriver, VDE 1000V

SoftFinish electric SlimFix SL/PZ2 – insulated screwdriver, VDE 1000V

Bit Stubby 41230 – extra short hand for a system of interchangeable Wiha SlimFix electric bits series, in a set with three bits – SL3.5, PH2 and SL/PZ2. An ideal helper even for very tiny places, VDE 1000V

3 versions

of Wiha SpeedE – all three available sets also contain SL/PZ1 and SL/PZ2 bits
Wiha also offers other versions of SL/PZ and SL/PH screwdrivers, standalone but also in a form of exchangeable bits.  In case of interest we can supply you any product from Wiha in a short leadtime and at favourable conditions.
If you are interested in other WIHA products or you need more information, we would be happy to advise you at sales@soselectronic.com