The universal smart enclosure is set to become the industries choice for smart device applications of the future; in smart homes, cities and offices. If you have missed out on the campaign launch, it's never too late to get up to date by visiting the dedicated website page over at www.CamdenBoss.com, look for the banner and start your journey.
To recap, CamdenBoss has expanded on years of knowledge in designing and manufacturing electronic enclosures, to bring you an enclosure of pure innovation. Coinciding with installers, OEM's and product designers from all over the electronics industry, we took into account the features that are being cried out for and the hassles that are faced every day. With this information at our disposal, the 1500 series was imagined and our designers set to work.
Our 1500 series is designed to mount in various positions and angles allowing it to be used for a huge selection of applications. However, its corner bracket is unique to ensure ease of fixing with misaligned walls. This was a huge issue we found whilst talking to installers who find the locations they are visiting, are not always conducive to an easy install.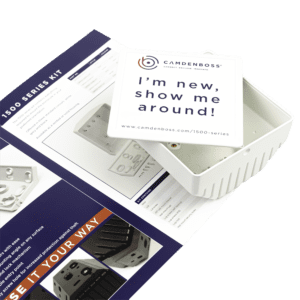 The box itself is also full of useful features such as multi-level PCB bosses in the base and lid, which accommodate different sized PCB's. One set in the base of the enclosure has been specifically designed to mount a Raspberry Pi development board, allowing enough space to accommodate the RJ45 and USB connectors.
What we really want to put your attention towards in this post is the A5 flyer, designed specifically to arm you with all the necessary information surrounding the 1500 series, in one small package. The flyer covers everything from the features and benefits, potential applications and the mounting options available.
To get your hands on a flyer, you can contact our sales team here: Sales@camdenboss.com
Alternatively, you can call our office using the number: +44 (0)1638 716 101
Or retrieve a soft copy from the downloads section on our website: https://www.camdenboss.com/