Smartboxx put to work their unique and market leading fabrication process to manufacture mobile conductive, secure storage systems. ESD trolleys are used in EPA's (ESD protected areas) which is a working environment that requires all person, surfaces and object to be free from electric static, for the safe assembly of electrical assemblies. Movable items (such as containers and tools) are bonded by virtue of standing on a bonded surface or being held by a bonded person. Everything that does not readily dissipate charge must be excluded from the EPA.
Working closely alongside a client the ESD trolleys where designed and manufactured and now, have become part of the standard range available, due to the increased demand and requirement of these storage trolleys.
The new range offers a modular approach with customers selecting layout and security features such as; the size of the drawers and containers, a choice of levelling feet or lockable castors for easy manoeuvrability, different key lock solutions and more.
Our latest customer, a major CEM, specified the use of RFID locks to be used which allowed the end users the access sensitive PCBs whilst ensuring that it everything could be controlled and monitored utilising an Android app.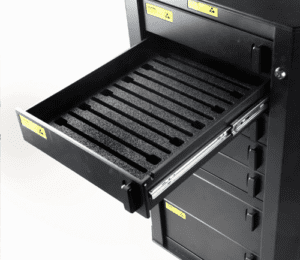 Optional custom conductive foam drawer inserts were provided, offering quick visual asset auditing.
Built in document storage can be branded to suit distributor, re-seller or the end users' requirements.
Whilst a standard range is currently pathing the way for the new product and due to be expanded, as with all of our case studies we welcome the opportunity to offer bespoke designs where appropriate. Efficient usage of space, asset security and meeting stringent compliance criteria will always remain at the heart of Smartboxx's new product initiatives and remains committed to its innovative roots.
Call Smartboxx today on 01842 766557 or visit www.smartboxx.co.uk to find out more about this exciting new piece of equipment, or discuss your custom enclosure requirements.
About Smartboxx
Smartboxx is a division of CamdenBoss Ltd. They continue to push the boundaries on providing customer driven solutions, utilising 50 years of manufacturing experience.
As the biggest innovator of high-quality plastic enclosures and electro-mechanical components in the UK, CamdenBoss/Smartboxx have built an unbeatable reputation for providing a broad and comprehensive range of products, guaranteed to satisfy any requirement.
They consistently drive quality and innovation to enable the customer to stand out from the crowd. They remain the only company to provide multiple industrial products including terminal blocks, waterproof connectors, fuses and fuse holders, along with customised plastic and metal enclosures. Giving the customer engineered solutions and modern products all designed around today's market
Call our sales team today on 01842 766557 or 01638 716101.