Circuit protection when you need it
CamdenBoss' fine tuned selection of circuit protection components and holders ensure that your devices and electrical systems are safeguarded when they need it most. Electrical failures can happen when overcurrent occurs and surges of electricity enter a circuit that it would normally not have to withstand. Fuses are a relatively cheap, common components that everyone is familiar with, and can protect expensive equipment from these electrical surges.
Our range of fuses is built up on industry standard electrical fuses in multiple different sizes, types and current ratings. Some types of fuses, typically cylindrical fuses, require some kind of carrier to hold them in place along a circuit. Fuse holders come in many forms and are useful for different applications.
Whilst through hole fuses have their advantages such as automation assembly, reduced BOM costs and saving space on PCB assemblies, Cylindrical fuses have the advantage of being replaced should they blow. Therefore, it is important not only to determine the electrical specification of a fuse and ensure that it fits the requirements of your device, but also can provide contingency.
Miniblade fuses
A selection of Miniblade fuses suitable for automotive and automation. Colour coded amp ratings to match industry guidelines, the range of 16x12mm blade fuses are manufactured to meet UL-248 and IEC60068-2-6. Fast acting overcurrent protection ensures circuitry and devices are safe in the event of overloading or a short circuit.
With the ability to withstand hot or cold temperatures and added vibration resistance, CamdenBoss' series of blade fuses are available in seven Amp ratings from 5A up to 30A for higher power requirements.
Miniblade fuses are push fit and can be replaced very much like cylindrical fuses.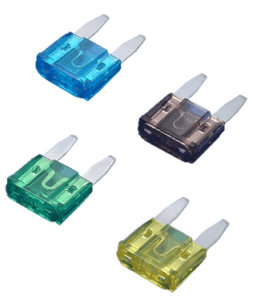 Axial fuses
CamdenBoss' range of micro miniature axial fuses are available in very fast or time delay versions, and are supplied on a bandolier for automation assembly ease. Axial fuses are cost-effective and easy to install. Aided by automation machinery, Axial fuses can be installed to systems making use of the 'ammo reel' packaging. Our range of Axials carry UL and TUV certifications.
CamdenBoss' CFB2470 series covers Amp ratings from the small 375mA up to 7A with excellent I²T characteristics.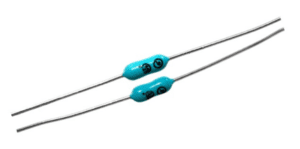 Radial fuses
With similar performances as regular 5×20 fuses, radial fuses provide a space saving option as well as a reduction in bill of material costs since they do not need a fuse holder, as they are mounted using through hole mounting pins, with a pitch of 5.08mm.
Square or circle radial fuses are available from CamdenBoss; each offering quick blow or time delay action. Current ratings start at 40mA up to 6.3A as standard. Square type radial fuses possess UL and VDE certification whilst the circle options are BSI approved.
Both options are supplied in taped ammo packs, making them a viable option for automation assembly.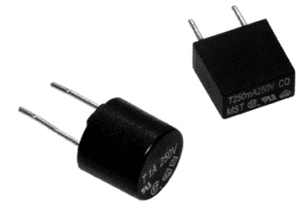 5x20mm fuses
CamdenBoss' circuit protection range includes 5x20mm fuses in time delay or quick blow speeds carrying an array of test house certifications, including VDE and UL. Ceramic or cost-effective Glass options are available.
5x20mm fuse holders are also available to suit a variety of applications, such as panel or surface mounted fuses and PCB mounted fuses. The 5×20 fuse range is also the perfect addition to the CFTBN fused terminal block range.
Current ratings start from 100mA to 20A for glass fuses and 500mA to 12.5A in ceramic.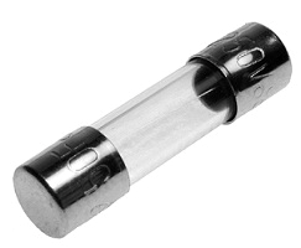 6.3x32mm fuses
Similar to 5×20 fuses CamdenBoss' range of 6.3×32 fuses are available to purchase in both ceramic and glass with quick blow and time delay options. UL approvals are available across the board providing peace of mind with a tested product.
CamdenBoss' CMFTB fused terminal block goes hand in hand with this range of fuses alongside other fuse holder options with surface mount capabilities.
Glass and ceramic fuses are manufactured in current ratings starting at 100mA up to 25A quick blow and 15A time delay.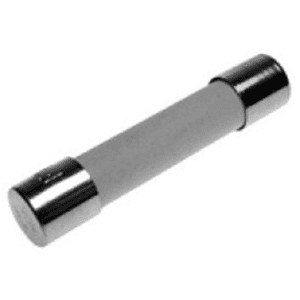 6.3x25mm & British plug top fuses
Conforming with BS1362, CamdenBoss provides British plug top fuses in current ratings of 3, 5, 10 and 13A.
In addition to the ceramic plug top fuse, also available is the glass 6.3x25mm fuses in either time delay or quick blow functions. Starting at 250mA the glass fuses are available up to 13A.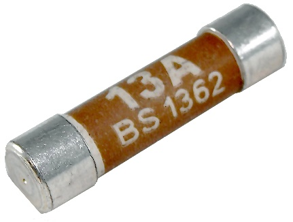 Specialist fuses
For larger or higher voltage systems, there are specialist fuses available in various sizes for different applications. These include motor circuit protection, GPV solar photovoltaic fuses, AR semiconductor power fuses and GG general power fuses.
For more information on these fuses, click the link below to find out more.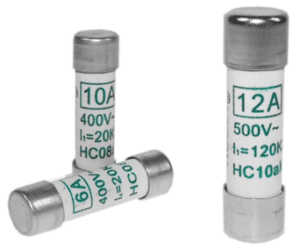 PCB mount fuse holders
Available in a range of different options, our range of PCB mount fuse holders are designed to hold 5x20mm fuses and secure them to a PCB. Options include standard holders with fuse covers, compact horizontal or vertically mounted, Surface mount or semi enclosures holders.
Each offer recognised electrical compliance such as UL and VDE.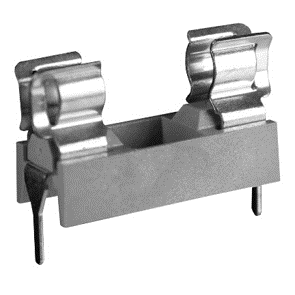 Panel mount fuse holders
CamdenBoss' range of panel mount fuse holders are ideal for panel systems, where they can be quickly reached and replaced should the fuse blow. They are held in place by utilising either a snap fit or screw fit action. To terminate the fuse holders, 2.8mm quick connect terminals are used.
Our selection of fuse holders is manufactured to accommodate 5x20mm fuses.
VDE and UL certifications are found through the panel mount fuse holder range.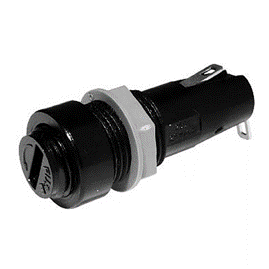 Inline fuse holder
An inline fuse holder is suitable for more unique operations where two wires can be connected together at each end, with the fuse in the middle of the holder. As the fuse is held in place by two springs either end, it is capable of holding fuse sizes; 5x20mm, 6.3x25mm and 6.3x32mm.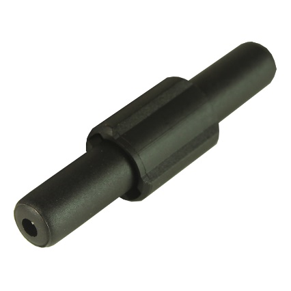 Chassis mount fuse holders
Our chassis mount fuse holders terminate the fuse in very much the same way as the PCB fuse holders, except for the simple different of being able to mount them to a chassis instead. This feature allows the to be used in electrical assemblies, such as panels or where there may be restrictions to PCB space. The fuse holder comes in two sizes, 5x20mm and 6.3x32mm.
To fix the holder, there is a centre screw hole and on the smaller 5x20mm option, anti-rotation spigots to stop it spinning in application.
Both options carry UL certification.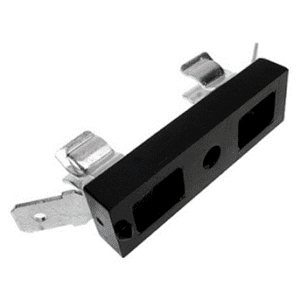 View the full range of fuses and fuse holders at www.camdenboss.com