CamdenBoss' customer driven solutions continue to provide ease of use and customer satisfaction with their new 'Discover' page onto their website. Within this section there are three dedicated pages listing their full range of enclosures, their wall mount enclosures and their waterproof essentials range.
These provide a consolidated section on the website to bring together all of the electronic enclosures and products that fall within these categories, reducing the time it takes for customers to find their ideal enclosure. A brief overview of each product provides enough information and insight into the characteristics and nature of it and enticing you to find out it.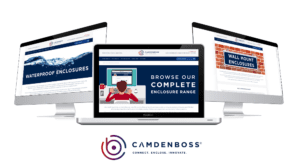 The waterproof essentials range highlights all of the enclosures that are available as standard, designed to meet and rated to IP65, IP66 or IP67. Also included are electronic housings capable of upgrading to IP65 with the addition of an optional gasket. A mixture of plastic ABS enclosure and polycarbonate boxes are included suitable for a variety of applications and industries such as IoT, industrial, medical, commercial and domestic. Metal enclosures, such as diecast aluminium and extruded aluminium are available also in this section, as well as waterproof connectors. View the range here…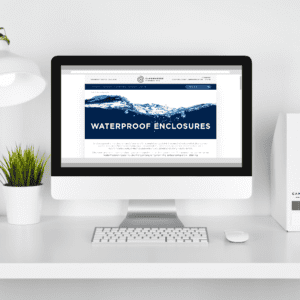 Mounting capabilities may be a necessity to your design, and for this reason, the wall mount enclosure page has been created. With a quick browse down one page, all of the potential matches can be seen at a glance. Each product has its own series number, title and description, providing a little information into what that specific enclosure will provide. A combination of metal and plastic enclosures can be found on this page, with varying toughness and rigidity, for specific applications and environments. View the range here….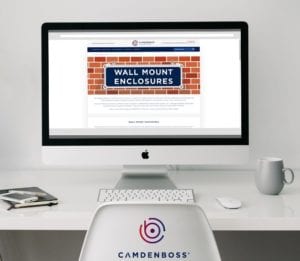 The full enclosure range section showcases all of the enclosures on one useful page. Customers are able to quickly scroll through the complete list of enclosures all in one place. They are separated into helpful categories for example DIN Rail and handheld enclosures, to make your enclosure even easier to find. View the full range here….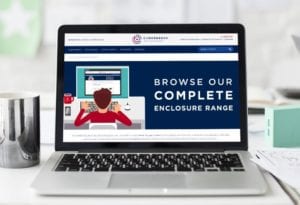 If you're looking for a one stop enclosure solution that can offer you a wide variety of 'off the shelf' moulded enclosures, custom fabricated housings or electrical mechanical components, then make sure you visit www.camdenboss.com, where customer satisfaction is always at the front of any operation.
ENCLOSURE RANGE – https://www.camdenboss.com/camdenboss-enclosure-range/
WALL MOUNT RANGE – https://www.camdenboss.com/Wall-mount-enclosures/
WATERPROOF ESSENTIALS RANGE – https://www.camdenboss.com/iprated-enclosures/
About CamdenBoss:
CamdenBoss continues to push the boundaries on providing customer driven solutions, utilising 50 years of manufacturing experience.
As the biggest innovator of high-quality plastic enclosures and electro-mechanical components in the UK, CamdenBoss has built an unbeatable and comprehensive of products, guaranteed to satisfy any requirement.
CamdenBoss consistently drive quality and innovation to enable the customer to stand out from the crowd. They remain the only company to provide multiple industrial products including terminal blocks, waterproof connectors, fuses and fuse holders, along with customised plastic and metal enclosures. Giving the customer engineered solutions and modern products all designed around today's market
Call our sales team today on 01638 716101
Customisation – Create more than just a box…
Make your enclosures stand out by utilising CamdenBoss' professional customisation service. We'll deliver your enclosure machined and digitally printed, ready to assemble STRAIGHT OUT OF THE BOX!
CamdenBoss offer a full customisation service for all their standard injection moulded, die-cast and sheet-metal enclosures. You can choose to customise your enclosure by machining cut-outs at CamdenBoss' in-house CNC machining centre. You can also choose custom colours, surface coating and RFI shielding, as well as engraving and digital/screen printing.