A low profile enclosure was required due to space constraints. Our CDIB DIN Rail instrument enclosure was ideal for this application. The customer had issues with wiring errors during installation and needed both wire to board and pluggable connections. They also had assembly errors where terminal blocks were fitted incorrectly onto the PCB.
To solve the confined space issue, CamdenBoss provided a low-profile terminal block (CTBP0508). To prevent wire to board terminal blocks being fitted in place of the pluggable headers, they provided custom terminal blocks with one pole removed.
The PCB did not feature a hole for pin 2, so only the correct terminal block could be used. To aid visually in installation, CamdenBoss also printed the terminal block with customer specific symbols.C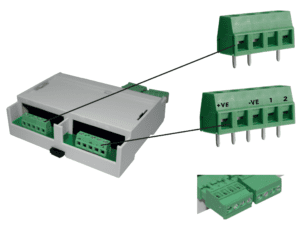 For the pluggable solution CamdenBoss provided right angled headers (CTBP9350) and plugs in both standard and reverse keying to ensure mis-connections could not be made.
View the range here
Call our sales team today on +44 1638 716101 to find out what we can do for your next project
About CamdenBoss
CamdenBoss continues to push the boundaries on providing customer driven solutions, utilising over 50 years of manufacturing experience.
As the biggest innovator of high-quality plastic enclosures and electro-mechanical components in the UK, CamdenBoss has built an unbeatable and comprehensive of products, guaranteed to satisfy any requirement.
CamdenBoss consistently drive quality and innovation to enable the customer to stand out from the crowd. They remain the only company to provide multiple industrial products including terminal blocks, waterproof connectors, fuses and fuseholders, along with customised plastic and metal enclosures. Giving the customer engineered solutions and modern products all designed around today's market.