The CamdenBoss 500 series range of enclosures are available in a range of sizes to suit various electronic applications.
The enclosure comes equipped with mounting flanges for securing to a surface, whilst also providing security to the lid mounting screws. Moulded in ABS UL94-HB, the high resistance to shock and most chemicals provides adequate safety to your system. The 500 series is ideal for either partial or complete potting and is compliant with water absorption specifications to DIN53495.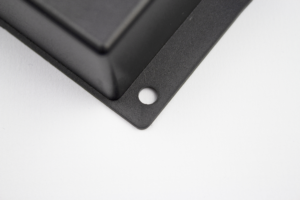 CamdenBoss stocks a comprehensive selection of miniature enclosures for miniature PCB systems and potted components.  To find out more call our sales team today on +44 1638 716101 or visit www.camdenboss.com
Customisation – Create more than just a box…
Make your enclosures stand out by utilising CamdenBoss' professional customisation service. We'll deliver your enclosure machined and digitally printed, ready to assemble STRAIGHT OUT OF THE BOX!
CamdenBoss offer a full customisation service for all their standard injection moulded, die-cast and sheet-metal enclosures. You can choose to customise your enclosure by machining cut-outs at CamdenBoss' in-house CNC machining centre. You can also choose custom colours, surface coating and RFI shielding, as well as engraving and digital/screen printing.
About CamdenBoss
CamdenBoss continues to push the boundaries on providing customer driven solutions, utilising over 50 years of manufacturing experience.
As the biggest innovator of high-quality plastic enclosures and electro-mechanical components in the UK, CamdenBoss has built an unbeatable and comprehensive of products, guaranteed to satisfy any requirement.
CamdenBoss consistently drive quality and innovation to enable the customer to stand out from the crowd. They remain the only company to provide multiple industrial products including terminal blocks, waterproof connectors, fuses and fuseholders, along with customised plastic and metal enclosures. Giving the customer engineered solutions and modern products all designed around today's market.