The PA66 DIN Rail mounting bracket from CamdenBoss is a simple and effective way of transforming your standard enclosure products into a DIN Rail mountable solution.
The mounting bracket is manufactured to fit 35mm and 15mm 'top-hat' style DIN Rail and 32mm 'G- rail' sections.
To connect the bracket to an enclosure, simply make two clearance holes into the face you need the bracket on and from the inside out, screw through to attach the bracket.
For wider enclosures, we recommend that you use two brackets.
You might also be interested in the CDR DIN Rail Adaptor, altering standard 35mm DIN Rail products to fit either 15mm mini top hat and G section rails.
To learn more about these and other enclosure solutions we offer, visit www.camdenboss.com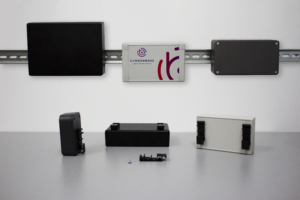 About CamdenBoss
CamdenBoss continues to push the boundaries on providing customer driven solutions, utilising over 50 years of manufacturing experience.
As the biggest innovator of high-quality plastic enclosures and electro-mechanical components in the UK, CamdenBoss has built an unbeatable and comprehensive of products, guaranteed to satisfy any requirement.
CamdenBoss consistently drive quality and innovation to enable the customer to stand out from the crowd. They remain the only company to provide multiple industrial products including terminal blocks, waterproof connectors, fuses and fuseholders, along with customised plastic and metal enclosures. Giving the customer engineered solutions and modern products all designed around today's market.