Technology is supposed to move. It's supposed to change and update and progress.
The engineers at Farran Technology and Copper Mountain Technologies know that the people using VNAs don't just need one giant machine in a lab. They want their VNA's to have portability and flexibility. They want the best value for their spend. CobaltFx is the answer.
Initially, the CobaltFx heads were developed in conjunction with the CMT VNA C4209 (2 port combination (2 Port VNA + heads). Now, we are pleased to introduce the C4409 (4 port) version, which is also fully compatible with the Farran Technology heads.
The C4409 4-port VNA operates in frequency range of 100 kHz to 9 GHz, offers a typical dynamic range of 162 dB (1Hz IF BW) and sweep speeds as low as 10 microseconds per point. Designed for operation with any Windows PC or laptop, this VNA is frequency extender compatible and forms the basis of the CobaltFx system (50-110 GHz).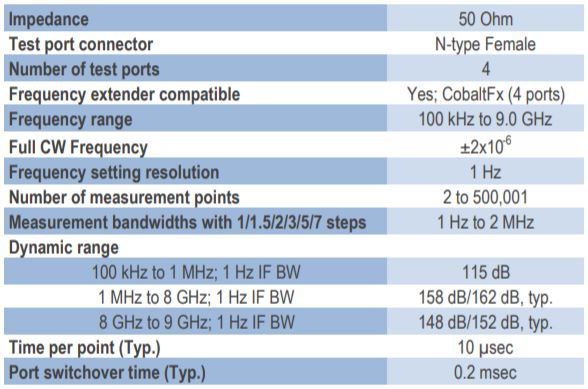 Applications include:
Material Characterisation.
5G Applications.
WiGig at 60GHz.
Backhaul at 70 & 80GHz.
Automotive Radar and Sensor Testing.
On Wafer S-Parameter Measurements.
Bench-top DUT Characterisation.
Antenna Range Measurements.
Find out more about the Cobalt C4409 and the range of other CobaltFx Compatible Cobalt USB VNAs.
View the Catalogue