HIROSE has developed the robust ix Industrial™ series of connectors for space-constrained industrial applications that need to support high-speed signal transmission up to 10 Gbps.
The connectors support CAT5e (1Gbps) and CAT6A (10Gbps) cabling, the ix Industrial™ Series I/O connector also features an optimized EMI/ESD shielding design for safe and secure data transmission up to 10Gbps. Available with two keying codes for Ethernet and non-Ethernet applications, the ix Industrial™ I/O connector is compliant with IEC/ PAS 61076-3-124.
The connector series reduces installation space by up to 75% compared to RJ45 solutions. The receptacle can be mounted in parallel with a pitch distance of only 10mm. The narrow width of the receptacle is particularly beneficial when multiple connectors are positioned on a single PCB side-by-side.

Featuring a rugged and reliable design, the snap-in I/O plug connector has a positive metal lock that provides a clear tactile click and ensures complete, secure mating.
HIROSE's unique shell design offers a high PCB retention force. High cable pull-out force and wrenching force delivers a durable plug cable connection. The receptacle shell is mounted on the PCB via through-hole solder legs to enhance PCB retention and to resist the wrenching of the cable assembly, protecting the SMT leads. The wire-termination unit and cable clamp are integrated into a single plug shell, which prevents the connecting part of the cable assembly from being affected by the load on the cable.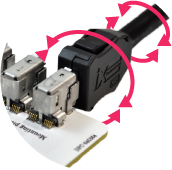 Click below to view a short introduction video on the ix Industrial™ series from HIROSE
Key Features
Number of contacts: 10
Current rating: 1.5A (all pins) / 3A (pin No.1, 2, 6 and 7 only)
Voltage rating:50V AC/60V DC
Mating cycles: 5000
RoHS Compliant
Operating temperature: -40°C to +85°C
Suitable applications include factory automation controllers, servo amplifiers, industrial robotics, servers, programmable logic controllers, security systems and any other application requiring a compact, reliable high speed connector.