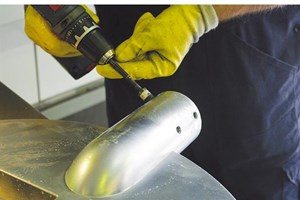 Helicoil Screwlock threaded inserts have been specified on a major European lighting project.
Extensive retesting demonstrated that with Helicoil Screwlock inserts now installed, all the design and service life requirements had been exceeded. The locking facility delivered by the Screwlock version of Helicoil provided WE-EF with the assurance they needed that the fasteners would remain in place as designed over the lifetime of the installation. A further advantage came from Helicoils' reputation for the quality of its materials, offering the design team the desired guarantee of resistance to corrosion over a service life of decades in this outdoor environment.
"In this instance, the Screwlock version of Helicoil delivered a two-in-one solution" said Helicoil Industry Sales Manager Clive Brown. "The customer needed a combination of threaded fastener security and guaranteed material integrity over a substantial period of time in a hostile outdoor environment and I am pleased to report that both objectives were fully met with an off-the-shelf version of Helicoil".
The regional Government covering the Bielefeld area in Germany instigated a programme to replace 'old style' (and expensive to run) street illumination with the state-of-the-art energy saving lighting, and commissioned global lighting experts WE-EF to fulfil the contract.
WE-EF used the latest, unmixed recycled aluminium alloys for the structures designed to carry the new LED light units, and because the application involved installation in public places the manufacturer needed absolute assurances about the 'full service life' structural integrity of the equipment prior to finalising the design.
During proving tests, it emerged that the threaded fasteners originally specified worked loose, so Bollhoff engineers suggested using the Screwlock version of the well-proven Helicoil thread insert to solve the problem. This solution proved to be enlightening for all.